Proscenophobia
(Stage Fright in case you didn't know)
In association with Samuel French Limited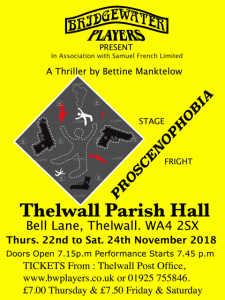 A Thriller by Bettine Manktelow
The action of this clever whodunnit takes place in the dressing room of a provincial theatre during a performance of a thriller. The star of the show, Addie, is attempting a comeback, and is understudied by her best friend, Millie.
Their constant bickering backstage belies a long history of friendship – which includes each of them having been married to the same charming impresario, Ed Gibb, many years ago.
Suspense builds when Addie begins to feel unwell and, for the first time, Millie must take her place in the dramatic and violent last act of the play. In a startling twist, the violence becomes real – and Millie is dead.
Was it suicide?
Was it murder?
Who put a real bullet in the gun she was using?
With everyone a potential suspect, the tension doesn't let up until the final revelation unveils not only the murderer but the price some actors pay to practise their art.
Thurs 22nd – Sat 24th November 2018
7.45pm (doors open 7.15pm)
Thelwall Parish Hall
Bell Lane, Thelwall, Warrington WA4 2SX
Ticket prices: Thursday: £7.00 Fri & Sat: £7.50
To book tickets for this production, please call 01925 755846
or click on the TicketSource button below to book online.


Cast (in order of appearance)
—===—
—===—
The play is directed by Andy Rushman
—===—

The Bridgewater Players perform three full-length plays a year in Thelwall, near Warrington in Cheshire
This website will give you details of our history, organisation, past repertoire and forthcoming productions.
We rehearse at Thelwall Parish Hall on Tuesdays and Thursdays, 8pm – 10pm from September to April.
If you'd like to consider joining the players or if you wish to know more then please get in touch.
You can call 01925 755846 or click here to contact us.